Farming year-round in upstate New York is not for the faint of heart—just ask Sandy and Paul Arnold. They've been producing some of the area's best organic greens and veggies for over 30 years now—growing and harvesting their crops all year long for the past 15. The Arnolds may be some of the kindest, most easy-going growers you'll ever meet—but that doesn't mean their work is always easy.
What makes this married couple such a dynamic farming duo, however, isn't the long list of obstacles they've faced in their three decades running Pleasant Valley Farm in Argyle, New York. It's how they've innovated, adapted, and overcome such setbacks, and the many invaluable lessons they've collected along the way.
We should know—we've had the pleasure of calling the Arnolds both customers and friends for well over a decade now. Not only that—like scores of family farmers across the Northeast, we've also come to rely on the Arnolds as a trusted source of agricultural knowledge, experience and wisdom.
In the 10-plus years we've known Paul and Sandy, they've shown us just how much a grower on the ground can accomplish, given the right tools, the right space, and the right know-how. They've shared that vision far and wide, too, and earned kudos from growers all throughout the Northeast.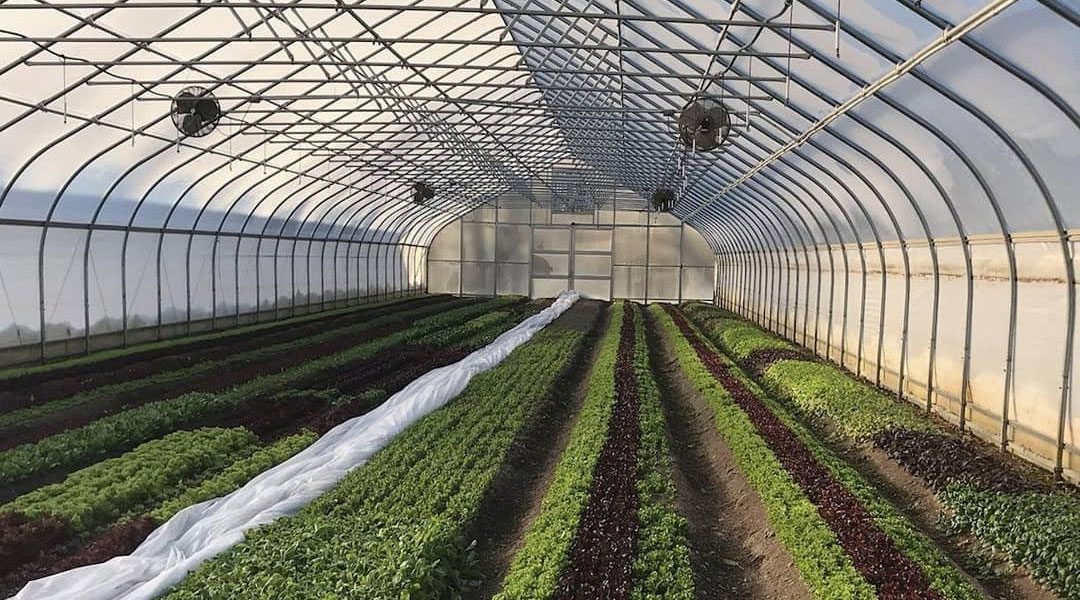 Above: The Arnold's 34' x 144' Rimol Noreaster Greenhouse, an unheated tunnel. This photo was taken in the winter in Upstate NY - note the snow outside.
Northern Climate Poses Unique Challenges For Year-Round Growers
When the Arnolds moved to year-round indoor grow operations in 2006, they saw the move as stress-reducing. After all, no need to worry about getting in the ground sooner next year, starting early in tunnels, or having harvests up for spring. Now, when other growers are just getting their season started, the Arnolds are already busy harvesting an earlier crop.
Despite such advantages, planning for a year-round growing cycle also meant confronting several formidable challenges. First, there's the Northeast's notorious freezing temperatures that must be kept out of the greenhouse. Also, wintertime's shorter days and longer nights yield less natural light than many plants need for optimum growth.
Then, of course, there's the region's unapologetic snow. Case in point: Two winters ago, a single storm dumped three feet of snow on the Arnolds' facilities and neighboring farms. Then, just last year, they were struck by a blizzard with snowfall so thick and wind gusts so powerful, a neighboring greenhouse collapsed under the weight and pressure (the Arnolds' Rimol greenhouses, by the way, held up just fine against the storm).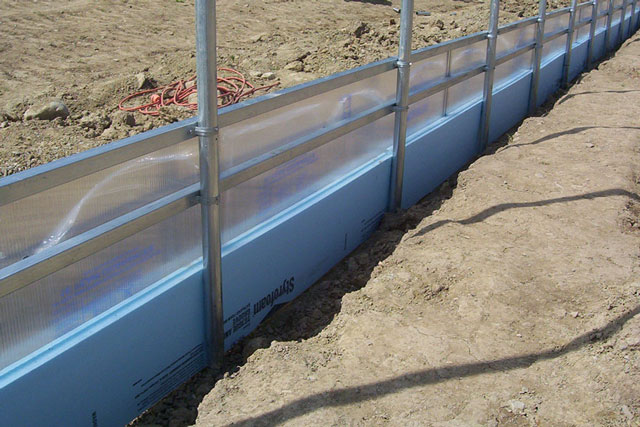 Before the Arnolds decided to transition to a year-round growing cycle, they'd already seen the kinds of havoc winter can bring–many times over, in fact. They knew that with the right plan and—more importantly—the right equipment, they could overcome upstate New York's harsh winter weather and grow all year.
To Keep High Tunnels Warm In Winter, Bigger Is Almost Always Better
As they began planning their greenhouse facilities, the Arnolds knew that effective heat retention would be mission-critical in their 34-ft by 144-ft Nor'Easter greenhouses. With that in mind, they went big when building their high tunnels, because bigger high tunnels naturally stay warmer—and heat up more quickly—come wintertime.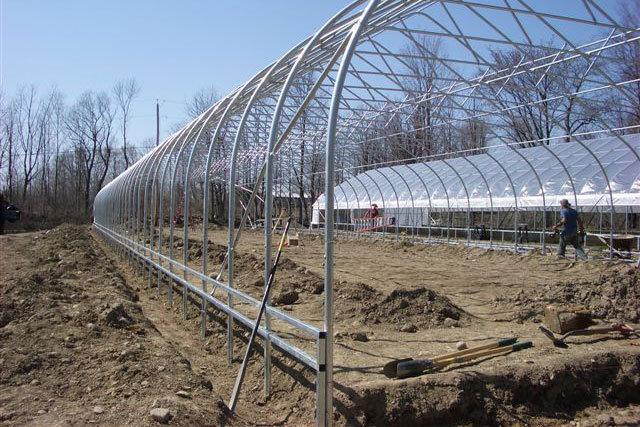 They also knew that a successful harvest would depend on how closely they monitored temperatures, so the Arnolds installed automated sensors to detect incremental changes in temperature and humidity throughout the season and send an alert when temperatures fell below a certain threshold.
Some plants need more light than northeastern winters provide naturally, so we helped the Arnolds install supplemental lighting to give those crops a boost. The extra light also meant they could grow more than just spinach and hearty greens, but also lettuce, chard, salad mix, herbs, and other delicate crops, regardless of the season.
Doubling Down On Insulation Pays Dividends When Winter Weather Strikes
Cold air is sneaky—all it takes is one little crack or gap, or an area with thinner insulation than the rest, to allow cold air to snake its way into a greenhouse where it could potentially damage crops. So, when it came to insulating their Nor'Easters, Sandy and Paul doubled down—literally.
First, they laid blue board insulation along the baseboards to minimize gaps between the endwalls and the ground. The solid baseboard itself includes two runs of 1.5-in square stock running down the length of each high tunnel. Joining the panels is an array of 6-ft by 2-ft polycarbonate panels, which significantly reduces the risk of frost penetrating the gaps in the high tunnel's covering and frame—a known trouble spot for wintertime growers.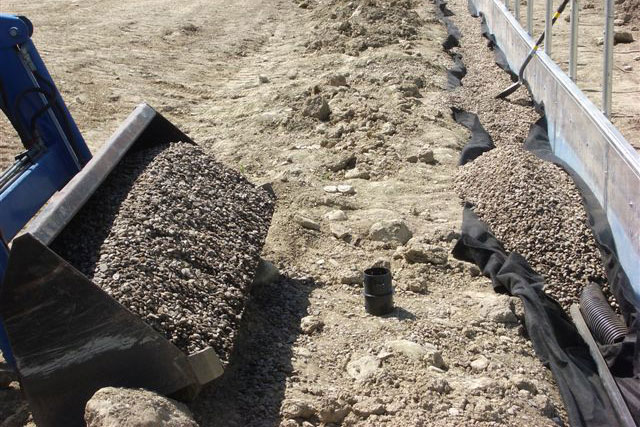 Lastly, to reinforce all of the previous temperature safeguards, the Arnolds deployed a rather innovative solution—pun intended, sort of. Another trick up cold temperature's sleeve is groundwater, which can rob heat from soil and plants with an alarming regularity. To keep groundwater at bay, the Arnolds installed perforated pipe and geotextile around the perimeter of their structures, then backfilled with gravel to whisk away any encroaching water.
How Pleasant Valley Farm Has Weathered The COVID Storm
With even the big box stores combatting intermittently empty shelves due to supply-chain issues, small businesses (including the Arnolds') are having just as hard of a time getting a hold of all the items they need to run a smooth operation. With same-day and two-day shipping times slipping sometimes into weeks, the Arnolds have had to plan further ahead.
After periodic shutdowns at many local farmers markets cut Pleasant Valley Farm off from huge swaths of its customers, the Arnolds decided to start a pickup and delivery service. Imagine their surprise when, after collecting and analyzing sales data, they discovered that pickup and delivery is, in fact, the more lucrative distribution model. After 34 years of selling at farmers markets, the Arnolds decided to switch over entirely.
How Sandy and Paul Arnold Pay It Forward
After successfully navigating over 30 years of agricultural pitfalls and overcoming the steepest of learning curves, Sandy and Paul have amassed more experience and knowledge about growing than just about anyone else in the region.
Knowing their success has been based, in part, on information and know-how gleaned from the scores of successful growers who came before them, the Arnolds continue to passionately share their knowledge and experience with the newer generations of growers coming up now.
"We try to help our local community get to that next level, and these high tunnels have really helped Pleasant Valley to become a real hub of knowledge for winter growers in the region," Sandy says. "In all, it's about being detail-oriented—something that's actually a big deal for all growers."
Looking to the future, Sandy and Paul hope to experiment with even more energy- and heat-saving features, like using insulating "bubble-wrap" poly and other solar-centered covering options. And, of course, they hope to continue growing both their delectable greens and veggies, but also the business they lovingly call Pleasant Valley Farm.
We're proud to have been partners in the Arnolds' growing journey for the last 10-plus years, but what we're looking forward to the most is continuing to grow our friendship with both the Arnolds as well as the generations of growers they'll continue to educate and inspire long into the future.