What is the NRCS? How can you get a grant for a new high tunnel or upgrades to your existing greenhouse equipment? Is it easy to apply for and get a grant? How do I begin the application process?
Rimol is your trusted partner that can help you get a grant and can be a valuable resource for you in answering these questions. Rimol has been working with Natural Resource Conservation Service (NRCS) agencies throughout the United States for well over 15 years.
What is NRCS EQIP?
The NRCS is part of the United States Department of Agriculture (USDA). The NRCS Environmental Quality Incentives Program, or EQIP, provides financial and technical assistance to agricultural producers. The main reason behind this program is to help producers conserve their natural resources, such as soil preservation, water conservation, or reducing energy usage, and providing growers with technical assistance. The EQIP program has a great deal of funding and major funding is expected for the future.
Most people know the NRCS EQIP grants can support the purchase of a new high tunnel. However, now with new funding opportunities, you can also apply for grants for energy upgrades. For example, your business might be a garden center with high efficiency heaters. Yet, if you upgrade your heaters to separated combustion heaters, you are eligible to receive this grant. That's right, free heaters! Another example of a non-structure upgrade is to retrofit your greenhouse with a ridge vent to reduce the use of energy. It's simple, you can either apply for a grant for a new high tunnel or an upgrade to your existing greenhouse.
Rimol offers high tunnel greenhouses, heaters, and other equipment that qualifies for reimbursement through the EQIP program. Contact us to discuss what new projects or upgrades you are looking to pursue and we can walk you through what purchases will qualify.
How do I get started applying for a grant?
The first step is to get in touch with Rimol and get a quote for a new high tunnel or upgrade to existing equipment. Then, contact your state's NRCS office, or you can contact your local USDA office to begin a discussion with your local NRCS representative. You can find a list of all the state's NRCS offices here. Rimol can also help you find and get in touch with your local USDA/NRCS representatives.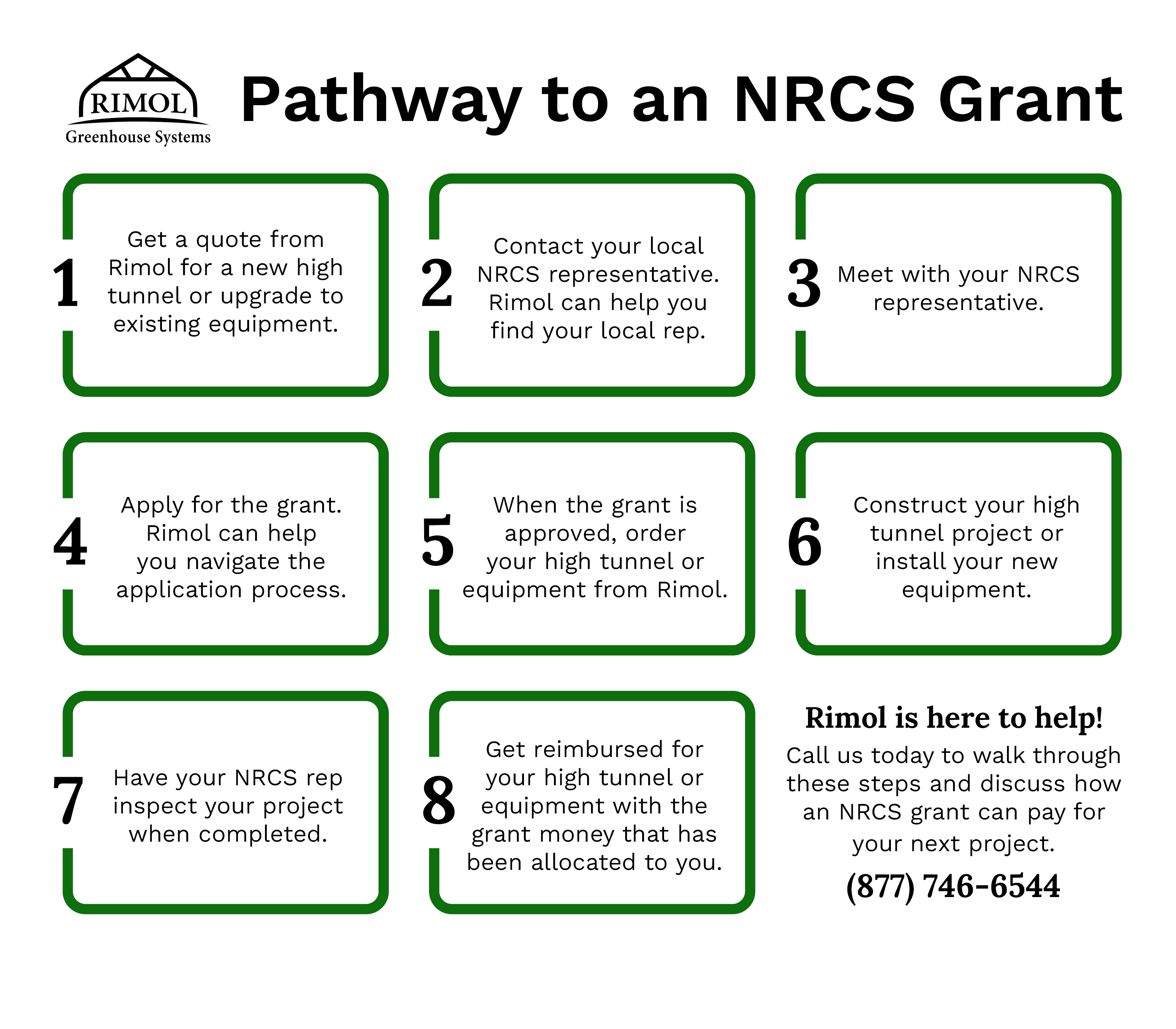 Each state has slightly different guidelines, but the overall program is the same. Although payment rates are slightly different with each state, the payment rates are now significantly better since they have been adjusted for inflation. You do not necessarily have to be a business owner to apply for this grant, and there are options of how much funding that you can apply for depending on the purpose and scope of what you intend to do. In addition to the below links to the state's websites, we also have links to other websites that may be helpful to you. There is ample funding, and it is a great opportunity for you to purchase either a new high tunnel or upgrade your existing structures. It is not hard, not bureaucratic, nor difficult to pursue this grant program. NRCS is obligated and committed to distributing the funding, and at Rimol, we are here to help!
Rimol is ready to help you maneuver your way through the entire process. Our knowledgeable experts can walk you through the steps involved in securing an NRCS grant and partner with you at each step. We can also provide custom quotes for a new high tunnel or upgrade to existing equipment.
Call us today at (877) 746-6544 to discuss how an NRCS grant can pay for your next project.
Additional Resources:
NRCS - List of Offices by State
NRCS - EQIP Fact Sheet (PDF)