Want to know the secret to keeping your crops healthy and your harvests full, even through the winter?
Covered growing—especially under the protection of a greenhouse.
But here's the problem: for a lot of beginners and backyard growers, the cost of equipment for season extension and backyard growing has always been slightly out of reach. That's where we come in.
Introducing: The Bobcat, the newest member of our greenhouse series here at Rimol. Designed to provide everything a farmer needs to keep crops protected from the elements year-round—all at a price point growers can actually afford—The Bobcat is opening up a whole new world of opportunities for growers everywhere.
Whether you're a longtime four-season grower or just looking to get started, the Bobcat is fully outfitted for success. Here's a look at what makes the Bobcat the best choice for DIYers and home-growers looking for an affordable greenhouse they can count on.
Let's Get Started!
Use our simple builder tool to customize your greenhouse today.
Designed With Beginning Farmers and Serious Backyard Growers In Mind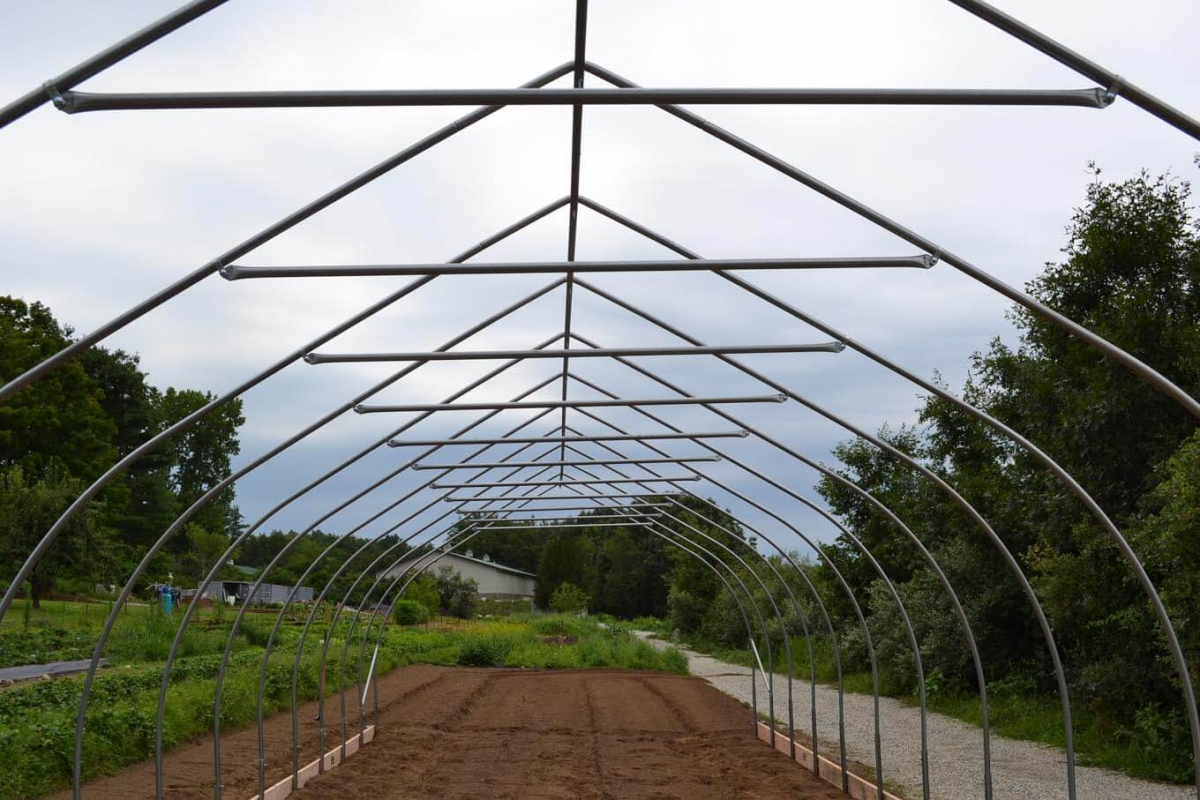 Finally, an affordable greenhouse designed for the small farmer.
The Bobcast is a highly-customizable 16-foot wide, gothic-shaped high tunnel available in several lengths up to 96' long, making it easy to size the perfect Bobcat for your growing space. Plus, since the Bobcat is highly compatible with several options and upgrades, you can keep your setup flexible to adapt to your exact growing requirements.
Featuring super simple construction and a price tag friendly for small budgets, the Bobcat may just be the best option ever offered to those looking to get started with covered growing.
Affordable, Yet Smartly Designed for Strength & Ease of Construction
We've been working with growers, farmers, and garden centers of all sizes for over 20 years. During that time, we've helped a lot of those growers find the perfect greenhouse option for their needs. But for too long, there's been one request we've heard over and over again: for a
greenhouse with all the durability and reliability a grower expects, but at a price that even an individual grower can invest in with confidence.
With the Bobcat, we're delivering just that.
Designed for affordability and ease of operation—and still packing that same rugged construction our customers have come to expect—the Bobcat truly is the ideal choice for those just getting started on their four-season gardening journey.
Easy To Build Right Where You Want It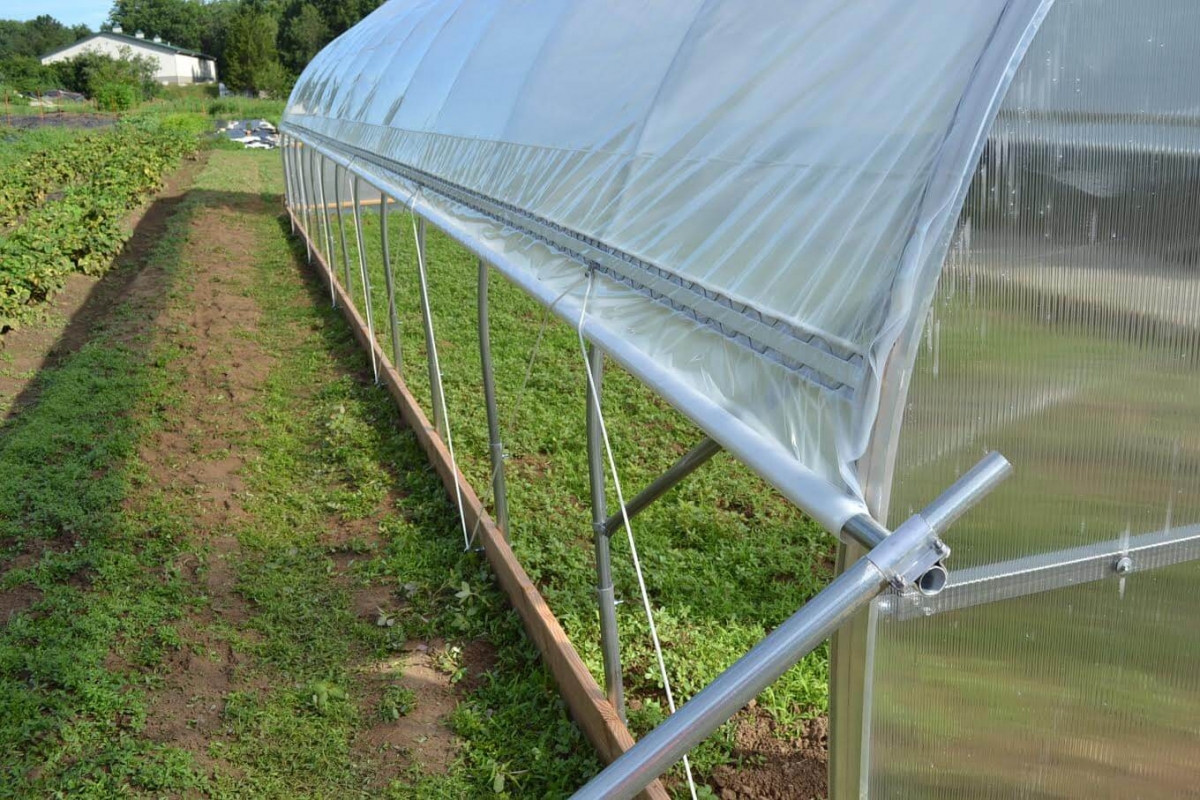 Because the Bobcat is available in a range of standard sizes, it's easy to customize your bobcat to fit exactly into your growing space.
But what's even easier is the actual construction process itself. We include just about everything you need to get your Bobcat up and running on your own—including all necessary hardware, simple adjustments for your desired ventilation and good airflow, and an overall efficient design—to make installation and construction a breeze for any grower.
Plus, our team of dedicated greenhouse experts are always just a phone call, email, or message away whenever you need help. That means you can get your greenhouse built and ready for crops quickly, without having to wait for a builder.
A Durable, Reliable Greenhouse For Season Extension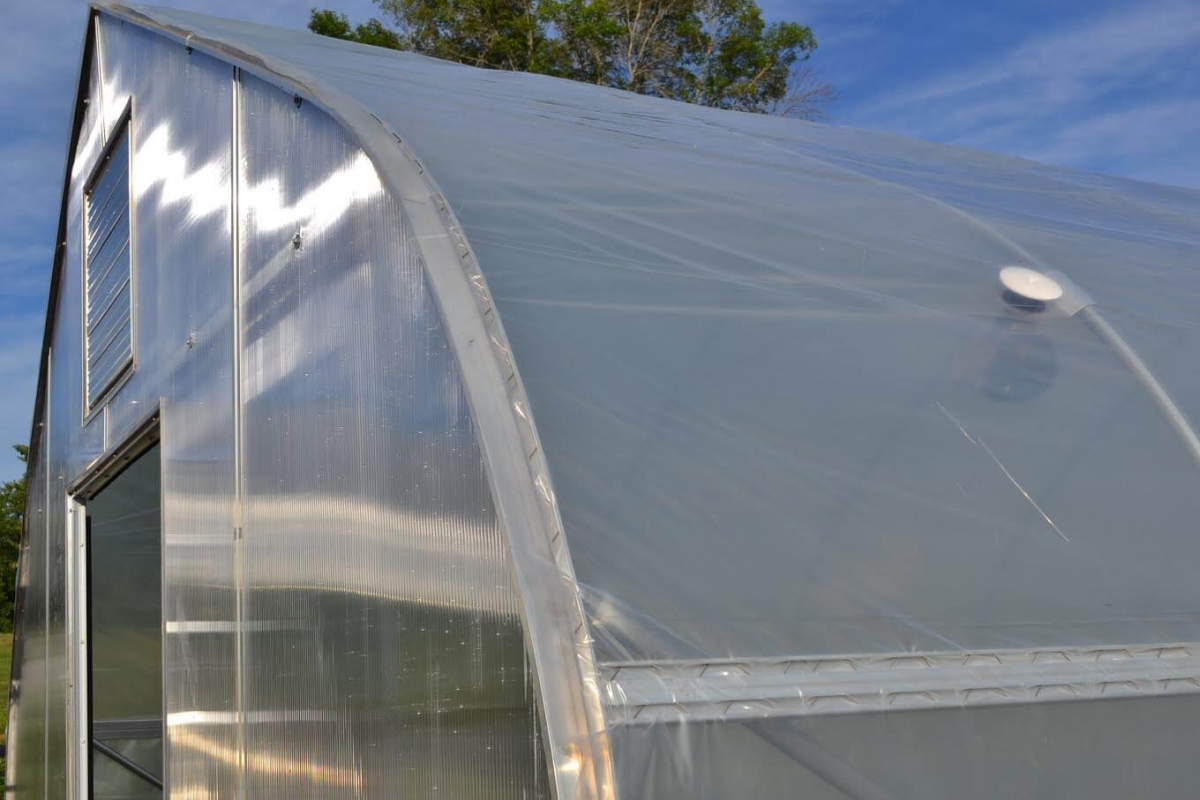 At the end of the day, even the best features and the lowest price point don't mean much if the structure itself isn't up to the challenge of actually withstanding the elements.
That's why we made durability, reliability, and all-season protection crucial components of all of our greenhouse series—and the Bobcat is no exception. Named for the highly-adaptable feline hunter native to the woods of North America, our Bobcat greenhouse is built to last through even the toughest winters just as well as its namesake.
Every element of our Bobcat greenhouse is designed for all-season durability. From the super-strong bows connected by sturdy ridge connectors to the single-ridge purlins with wind bracing for added rigidity, the Bobcat is built to withstand everything from heavy winter snowstorms to the blistering heat of summer.
And while we wanted to be sure you get everything you need to build your Bobcat right up front, we also recognize it's no good if you just need to come on back for replacement parts in a few months. That's why we put a prime focus on durability throughout all of the Bobcat building process, providing you with high-quality, durable components to keep your build steady and strong through any weather conditions.
Now Easier Than Ever To Order Online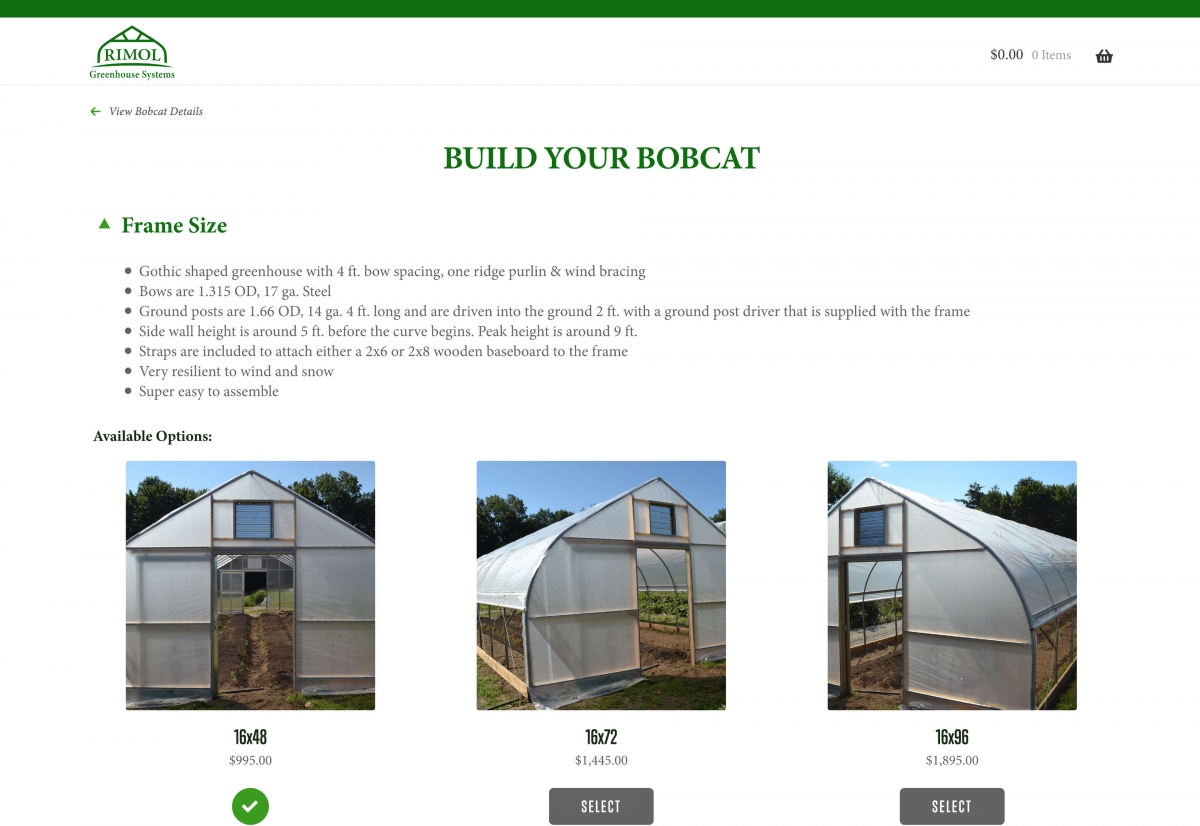 We've met so many farmers & growers who want to upgrade their growing space with a greenhouse, but for whom the ordering process has just been too much of a hassle. That leaves growers without the tools they need to succeed. We decided to change that.
That's why our new Bobcat greenhouse is available for ordering all from our website, With our new, simple-to-use online ordering platform, you can customize and build your Bobcat to meet your exact specifications.
To get started, simply select your desired Bobcat size, along with any additional upgrades or modifications you'd like for your growing environment. Then, just enter your delivery or pickup details and see exactly how much you can expect to pay. That way, you have no surprises and get exactly the greenhouse you're looking for.
Through our online ordering system, growers can create exactly the greenhouse they need, all while closely watching the cost to match their budget. And while the system is designed for easy use on your own, our Sales team is always just a phone call or email away if you need assistance.
Don't Stop Your Progress. Order Now To Keep Growing Through Winter
Our mission has always been to outfit our customers and local farmers with the equipment, knowledge, and community needed to improve their harvests and boost their growing capabilities. With the addition of the Bobcat, we're making it easier than ever for beginner farmers to do the same.
If you're interested in learning more about our new Bobcats greenhouse offering, check out our website for more details and to start building your Bobcat. If you have any questions, or if you're just looking for more information, feel free to reach out and chat. We'll be happy to help get you started.